During the event, Conqueror screened a commemorative video with some of the highlights of the network in the last 10 years
This year Conqueror Freight Network completed 10 years in the industry. Conqueror celebrated this special occasion during the 2
nd
Virtual Meeting, held on 29
th
and 30
th
November. Additionally, as a token of appreciation, a touching
video
with the highlights during the past decade was screened after the Speech by Antonio Torres, Conqueror's President and Founder.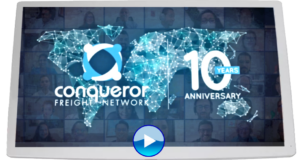 Conqueror Freight Network's 10th Anniversary
Hit the above link to watch our 10th Anniversary Video
"I have been a member of Conqueror since 2011 and have seen it grow. The video played at the Event was very heart-warming. It made me remember all the good moments we have had at the Meetings, the friends we have met there and all the work and efforts we made along these years", says one of the Conqueror members. Conqueror was launched back in 2011 as an exclusive network for freight forwarders. Since then, it has been helping independent freight forwarders to effectively compete against the largest multinationals of this sector. The network started its operations with 47 cities in 33 countries. Presently it has more than 260 members across 137 countries, becoming the largest exclusive international freight forwarders network. To quote Antonio Torres, "We have come a long way since the foundation of our network. All these years, we have grown together, expanded our business, established long-term relationships, being present in 10 editions of Virtual and Annual Meetings. Since the very first moment, there has been a fantastic personal and professional relationship among all Conqueror members. This is why I would like to thank all of them for their trust throughout these years, and even more in these difficult moments". "Conqueror's Annual Meetings have helped members to get together for enhanced networking and better prospects of project exchanges. Our 1st Annual Meeting at Phuket in 2012 gave the members the first insight into the immense potential of this network. This is why there couldn't have been a better time to celebrate our 10th Anniversary with our members than the Second Virtual Meeting," continues Antonio Torres.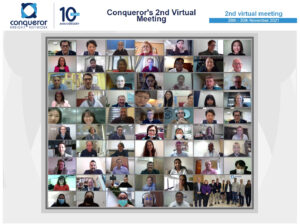 Conqueror's 2nd Virtual Meeting
Conqueror's custom-made meeting platform allowed each delegate to schedule a maximum of 28 videoconferences with their international logistics partners. Members got to schedule a total of 1680 videoconferences. Additionally, this year, the participants got the option of accessing a chat room with up to 5 random partners. The friendly chitchats further fostered the connections among network members. The delegates also attended the FreightViewer workshops held during the online conference. Andrea Martin, Conqueror's
FreightViewer
coordinator showcased the several utilities of Conqueror's member-exclusive TMS. "One of the Conqueror's biggest achievements in the last ten years is the creation of our own digital freight quote generation platform. We are the first international network with global coverage to launch instant quoting ability for our members, through FreightViewer. We always strive for more and better services, in order to provide members with the most innovative and unique benefits. Apart from FreightViewer, every year we increase the wide range of logistics and marketing services we offer our members," adds Mr. Torres.