They are handling major retail brands based out of New York and LA, and are the logistics partner from India for a French MNC that specializes in Digital Automation and Energy Management
HTL Logistics India Pvt Ltd, Conqueror member in Ahmedabad, India, is presently handling the logistics for major international retail brands. They have partnered with two New York based clothing lines and a Los Angeles based clothing retail giant. They have also become the logistics partner from India for a French multinational energy management brand. Additionally, they are handling over 30 reefer containers every month from ICD locations for pharma.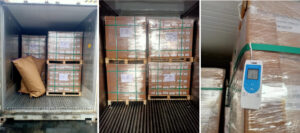 Conqueror Ahmedabad- HTL Logistics India
They are already engaged in frequent movements of cargo of these companies from India to Brazil, Germany, and countries in the Gulf. Owing to the large number of projects they are handling, HTL has been overachieving the targets YOY. Their current revenue stands at well over + USD 70 Mil. In the words of Amit Chawla, the General Manager of HTL Logistics India, "Partnering with such major global brand names has indeed elevated the status of our company. Moreover, our IATA, FIATA, FMC, AEO, and MTO certifications further add to the credibility of our organization. With more than 44 years of market experience and a team of over 350 qualified professionals on board, we are perfectly suited to handle all kinds of transportation needs of our clients and partners." Congratulations to HTL Logistics India and best of luck with their upcoming endeavours!